[ TOAD5 ] 22.1.2022
TOAD5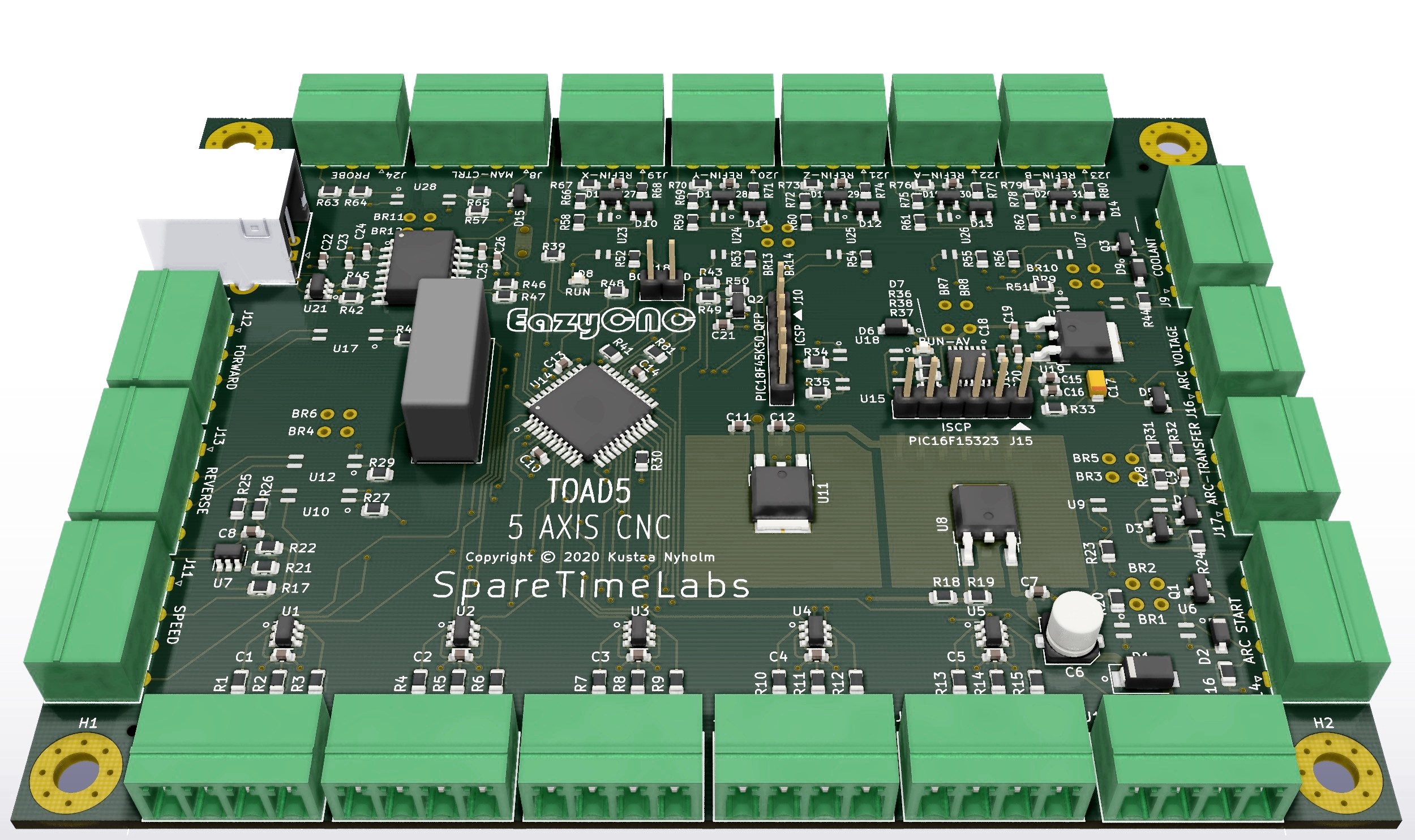 TOAD4it is minimalistic, compact and fit for purpose -- a one board system for a medium sized hobby CNC.
But one size does not fit all.
Allow me to introduce TOAD5, a different take on the same subject.
The main difference compared to TOAD4 is that TOAD5 does not have the stepper motor drivers incorporated on to the PCB board. This allows flexibility with the choice of drivers, making it possible to use higher current motors or take advantage of the incredibly cheap Chinese driver offerings or use servo motors as long as they conform to the STEP and DIR method of control.
The other great differentiating feature of TOAD5 is that is has galvanically isolated USB and four layer PCB construction which helps a lot with fighting with the pesky EMI problems that plaque amateur CNC machine builders.
There is a complete manual of TOAD5 with detailed description of all the features and full schematics, download it from this link:
TOAD5 boards are available, manufactured and all the SMT components assembled by JLCPCB.
If you are interested in a TOAD5 board, contact me at kustaa.nyholm@sparetimelabs.com
Fully assembled, preprogrammed and tested, including the screw terminals the boards are priced at 90 EUR.
With the resent shortage of chips and component price hikes the price is likely increase for the next production run.
Preprogrammed but otherwise untested boards with all the SMT components pre-soldered are also available.
That's all Folks!
PS One more thing!
EazyCNC 2.0.37 premiering soon in a Raspberry Pi near you.